📞 Secret World No.3: Gardens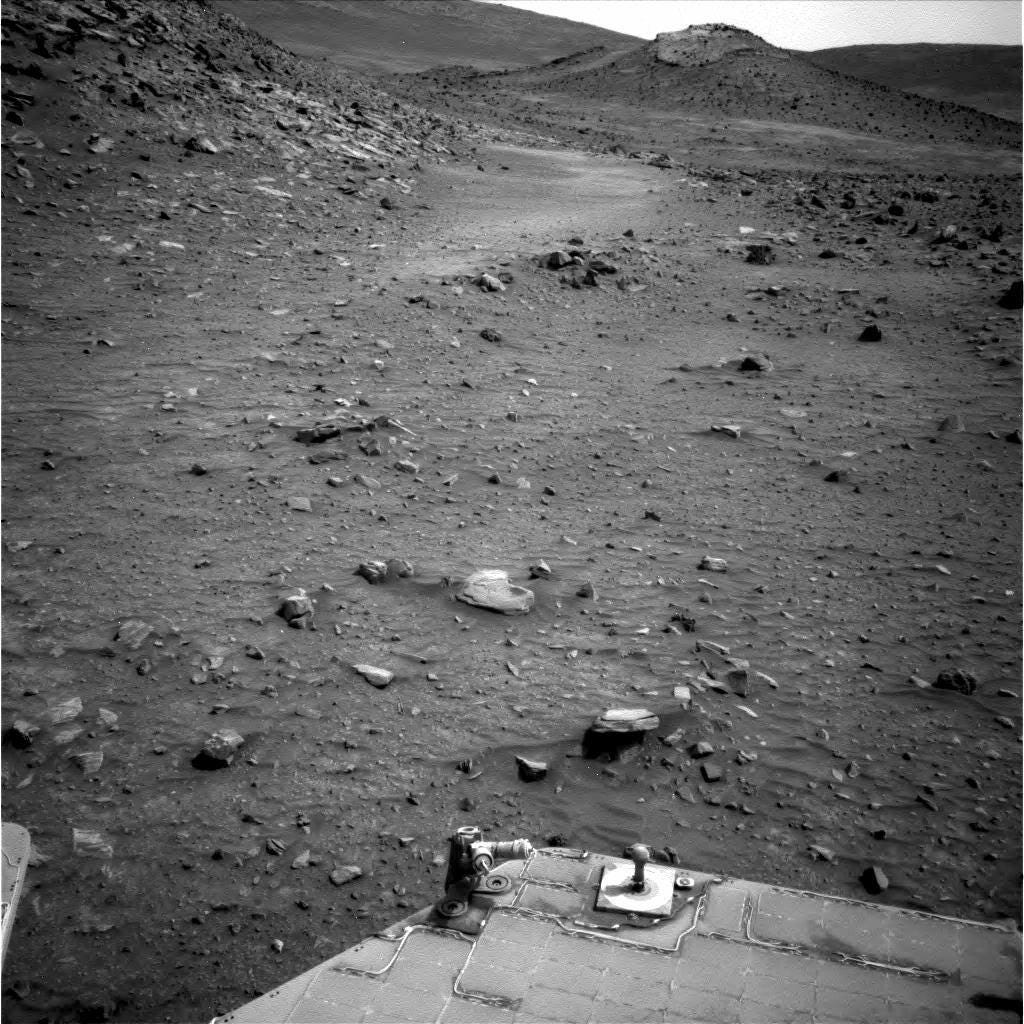 I'm going to start this issue in the garden. Not the kind of garden that I usually think about this time of year, the one I'll try to coax into being on my patio come May (you have to plan early, and I'm already behind). Instead, I want to take you to the corporate/academic/industrial gardens where farmers, scientists, and businesspeople are figuring out What Comes Next in vegetables and fruits. Here are five stories rattling around my brain lately:
I love stories like these. They all involve the long-game, because you can't rush nature, and breeding the next big variety of Apple or strawberry takes time. It's a science but also a business, and access to the global supply chain means that the biggest growers can get creative with what's grown when and where, to ensure there's always a fresh, quality supply of what consumers want, whenever they want it, wherever they are. This is also kind of terrifying, when you think about it — how we've managed to optimize and systematize the way we grow, distribute, and sell the most organic of things. It's so far removed from the humble process of trial and error and failure that happens in my garden each year. It's a world I find mysterious and foreign, and I've been thinking about it a lot. 
It's still early in the year, and I'm still figuring out what stories I want to dig into in the months ahead, but I already know this will be high on my list of obsessions. If you have anything you think I should add to my, ahem, growing bibliography, please, send it my way! 
---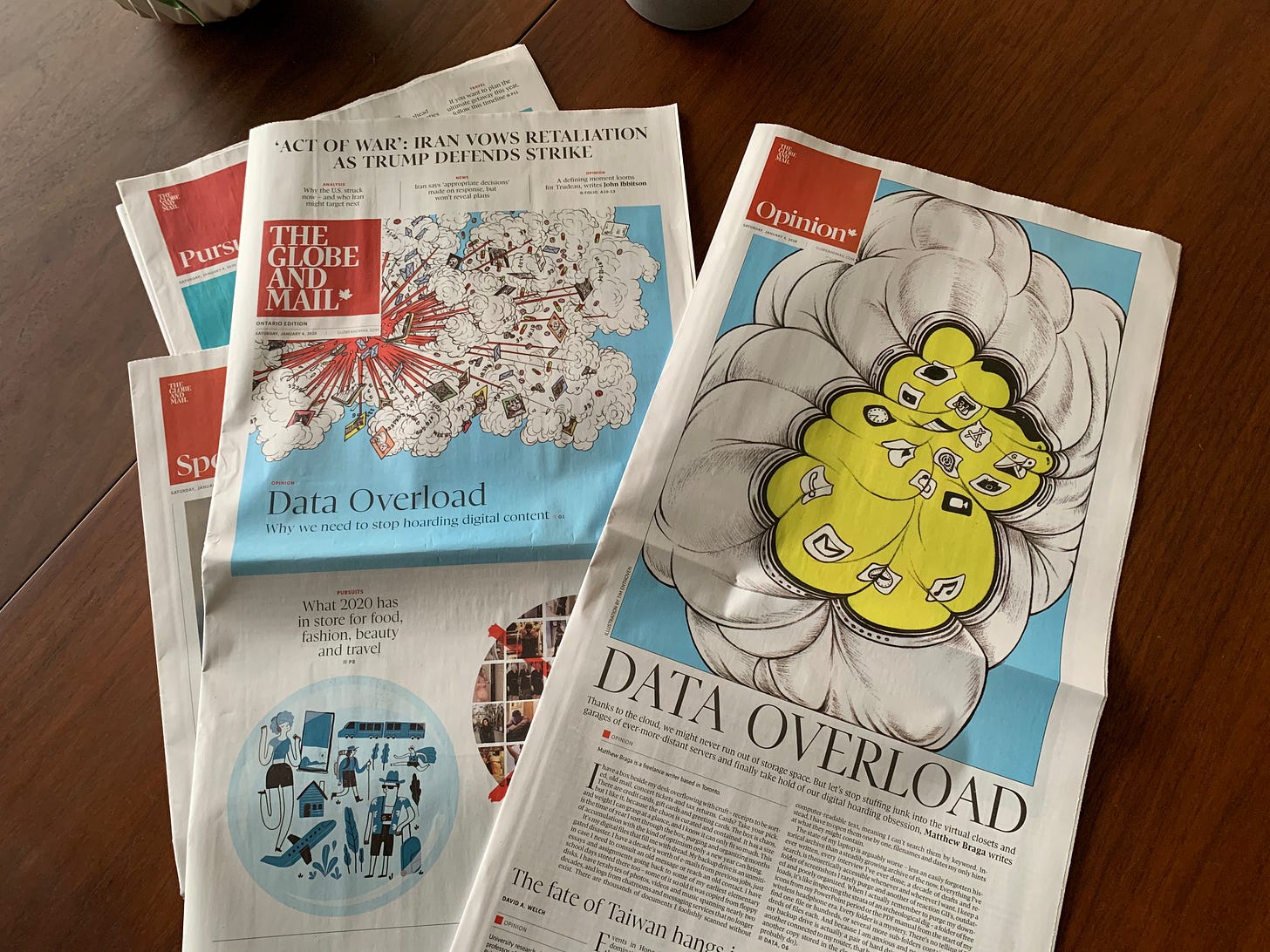 I also started the year off with a pair of stories in The Globe and Mail, one of Canada's national newspapers. The first was a lengthy essay on the messiness of our digital lives — how we have too many apps, messages, photos, and files, and no good way to manage it all. Our phones and laptops and online accounts are saddled with such a degree of organizational debt that even the thought of tackling it can feel overwhelming, paralyzing. I tried to make sense of how we got here, and what I've tried to do about it (often, without much success).
There was a time, as recently as the start of the past decade, when it felt like you could actually grasp the shape of your digital life, reasonably arranged on only a handful of disks and drives. You could run a command to list all the files and feel some degree of comfort seeing them all laid bare. Now, I'm not so sure.

There was a shift, an inflection point, when the balance between the things we stored physically and the things we stored digitally flipped. First, the cost of storage plummeted and storage capacity soared. Every year, it felt like you could save more for less. And that was a good thing, because around the turn of the century, we suddenly had a lot more to save – photos, music, videos, games, all of it accumulating and taking up more space than ever before, as the technology to help us create and consume improved. Things we never dreamed of digitizing, of rendering immaterial, now seemed like they could exist no other way – expense reports, tax returns, receipts, office memos. It was seductive to believe that, by digitizing everything, we would declutter our homes and offices. We could reclaim the space taken up by CDs and filing cabinets and printed things – out of sight, out of mind. A hard drive was small, sleek, the opposite of clutter. We associated logic and order with digital things.
The second was a review of author William Gibson's new book, Agency. I liked it, for the most part — and if you were a fan of The Peripheral, I think you'll like Agency too. The review is paywalled, but this was what struck me most while reading:
Agency is at its best when Gibson reflects our current reality back at us with startling clarity. Throughout the book, a rotating cast of interchangeable characters are told by Eunice the autonomous AI central to Agency's plot where to go, who to meet and what to buy – and do so with a shocking degree of credulity (Eunice, at one point, finishes an order to her human extensions by saying "execute," and it could go either way whether this was meant humorously or not). It's not unlike the blind trust we already afford the directions given to us by a GPS app, or whatever products Amazon's algorithms tell us are the best. Of course, the way that characters in Agency are nudged is considerably more extreme – and that they even follow Eunice's directions is perhaps a testament to the AI's human-passing autonomy – but it also forces us to confront just how much we've already been turned into extensions of the software running on our phones and distant server farms all the same, sometimes quite literally, in the case of apps such as Uber or TaskRabbit. As Netherton's wife, Rainey, remarks of the prejackpot past: "We were in our real singularity all along. We just didn't know it."
Not a terrible way to start the year.
---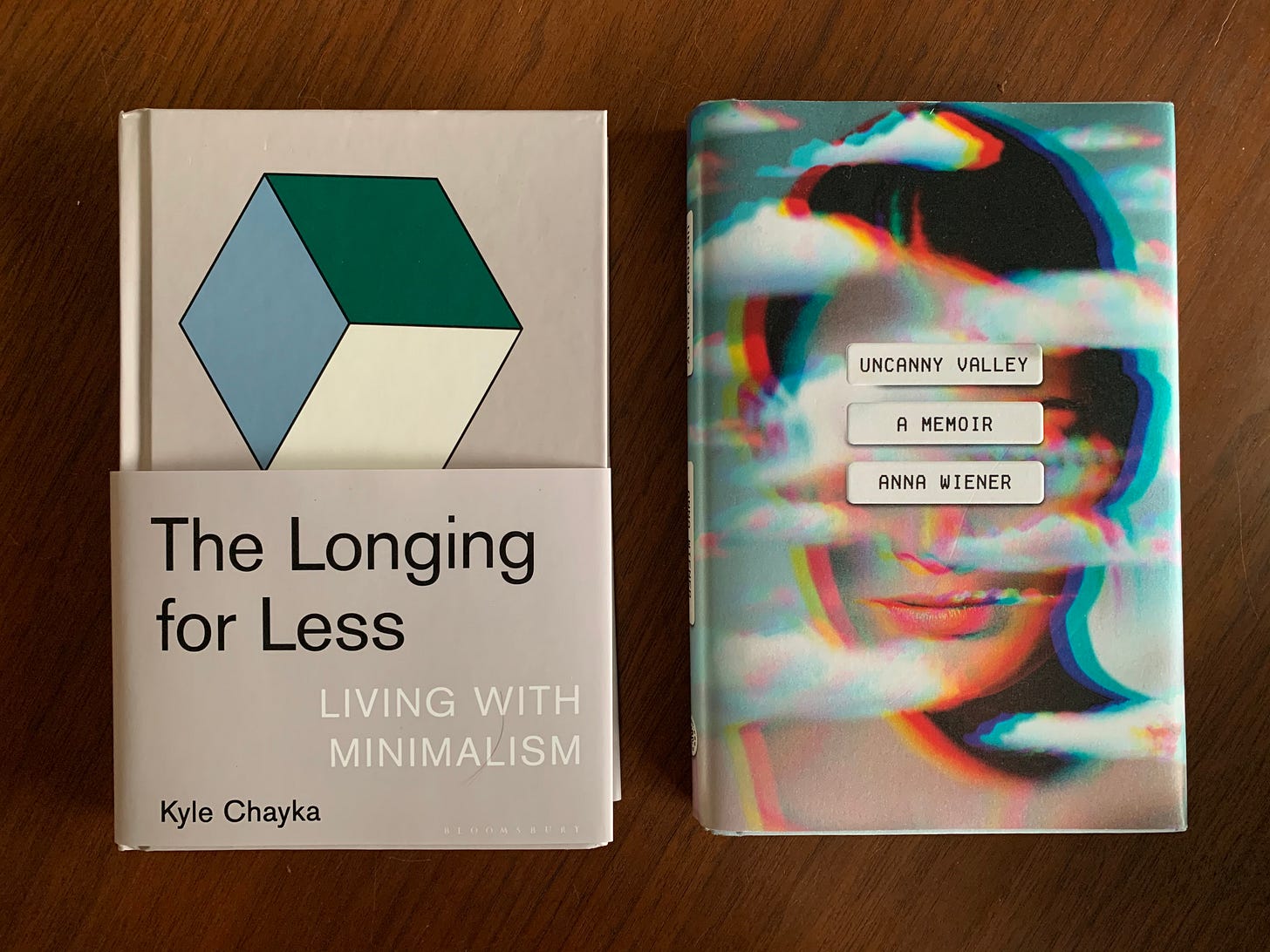 Two more books I want to draw your attention to (though I suspect they may already be on many of your radars):
Kyle Chayka's The Longing for Less

Anna Wiener's Uncanny Valley
Both are at the top of my read-next pile, and for good reason. Chayka often attempts to unpack the draw of minimalism and how the concept is marketed and sold, work that culiminates in this book. He's written about why every coffee shop and Airbnb shares the same aesthetic — a phenomena he labelled AirSpace — and more recently, about monoculture in the algorithmic age. Wiener, meanwhile, has been a sharp and thoughtful critic of Silicon Valley for a number of years — I particularly enjoyed her efforts to plumb the early archives of Wired and the Whole Earth Catalog, foundational texts for many Bay Area techies — and having actually worked in the industry at its most ascendant, has a unique perspective on its inner workings. 
---
Every month, the great Jazz label Blue Note Records updates a playlist with a selection of tracks from its very extensive catalog. As fun as it can be to plumb the depths of an archive yourself, sometimes it's nice to let others surface old gems — especially when it's the people who know that archive best. I always end up discovering something new, and maybe you will too.
---
Secret World is a newsletter from writer Matthew Braga. If you're not familiar with me or my work, be sure to check out my website, and consider following me on Twitter.
A rock garden. (NASA/JPL-Caltech)

Nothing beats the feeling of having a story in print. (Matthew Braga)

Two books I'm looking forward to reading. (Matthew Braga)